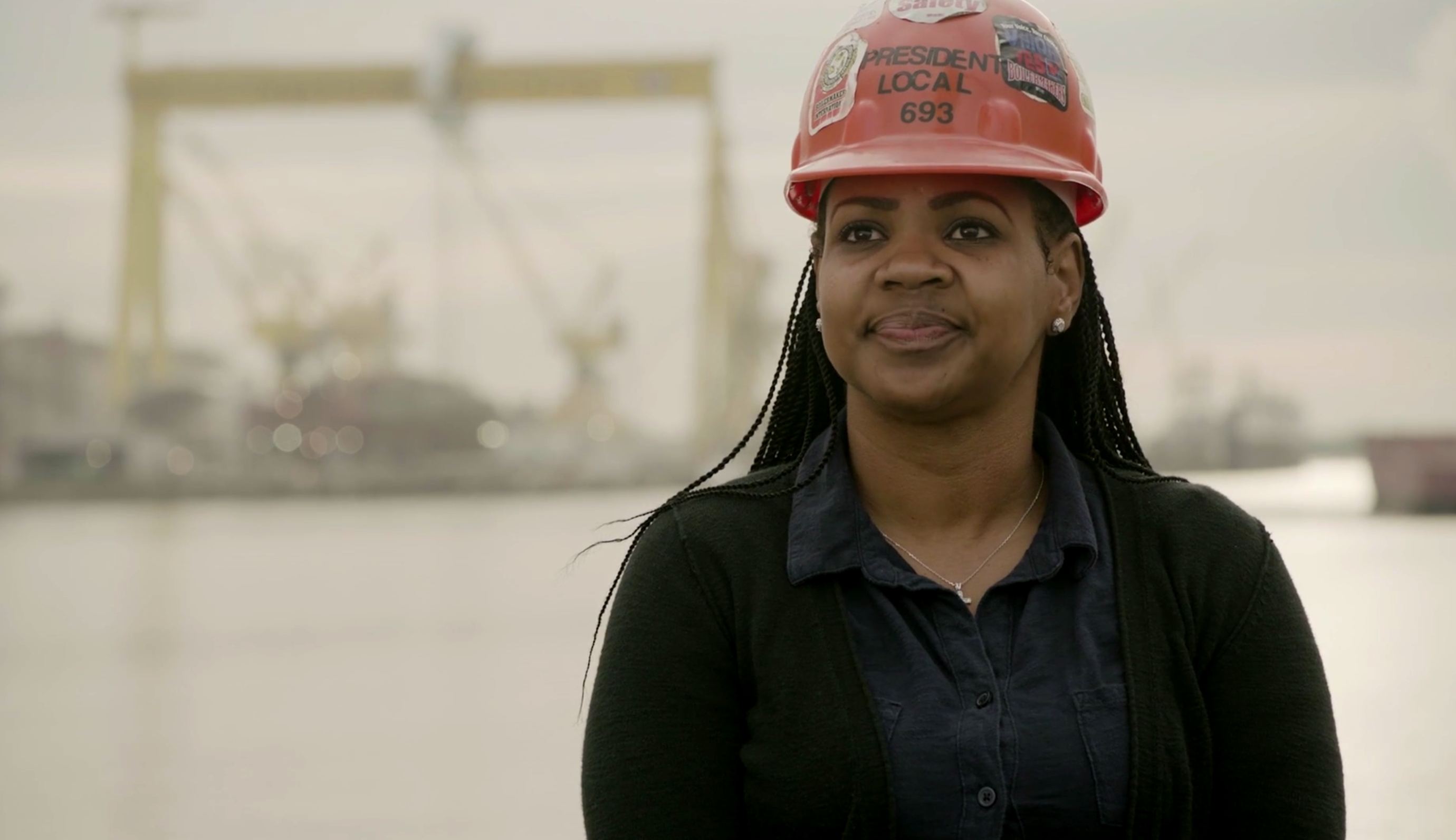 They want to see me shine - Erica Stewart & Martin Williams talk about the Boilermakers' diversity work
Boilermakers/ EMix Erica Stewart & Martin Williams
GILLIAN PITTERS: So, IBB. Who's going to start?
MARTIN WILLIAMS: Well, maybe I'll start. Again, thanks for allowing us to be part of the discussions.
So if the intent of the discussion is to talk about efforts to address diversity and inclusion, it is probably worth talking about that the structure of our organisation. And that might lend itself to additional questions or discussion.
So, Boilermakers primarily are divided into two groups. So we have a construction division which is heavy industry. We have workers who work in power generation, oil and gas refining.
And the nature of that work is, our members don't find themselves working for one employer for a long period of time. It tends to be, very mobile, temporary, seasonal work.
So, we have arrangements with signatory employers. We negotiate contracts on a multi-employer basis.
And having said that, the primary point of entry into the organisation [ie the Boilermakers], in that sector, is through the apprenticeship program.
And...
In terms of diversity and inclusion, I would say that's been a challenge. It's a work in progress. But over the last few years, I can say from when I was an agent continuing through as a manager of one of our bigger locals and to now, there's been a pretty strong and focused effort to increase recruiting of minorities into the apprenticeship program.
And it's not simply because our Department of Labour has requirements for
registered apprenticeship programs, we recognise it's the right thing to do. The organisation needs to reflect a broader population.
I think the last report I've seen as of earlier this year, we were approaching over 30% registered apprentices as minorities. Which again is good. But we need to, we need to certainly do better.
Certain areas of the countries are doing better than others. In our Western States, region I think two-thirds of our registered apprentices are minorities which is fantastic.
Where I think that's encouraging, as far as this effort, and when I describe it as a work in progress, is, as the composition of our apprenticeship changes and those members become full journeypersons and become involved in their local, and seek leadership positions, then the overall rank and file changes.
Which means more opportunities for minority members. And that's only going to benefit the organisation overall.
And...
I will say, also for members that are seeking leadership positions, of course, in any organisation it's important to have sponsors. And I think that structure needs to be put in place. But I can say, for me, I haven't had any stronger advocate than our current international president.
I certainly wouldn't be where I'm at if it weren't for his for his guidance. And my hope is to is to the do the same for up-and-coming rank and file minority members.
So again,
I think that's a description of our construction sector. Erica is on the other division of our organisation which is the industrial sector. And that's more of a traditional employment structure, where we have members working at one location for a semi-permanent basis.
More or less like a shop type environment.
And with her involvement in women in trade, that probably represents our most focused effort to increase diversity and inclusion within the organisation.
And Erica, if you're on you can talk about your talk about your your role, and involvement.
ERICA STEWART: I thank you brother Martin.
So again for those who joined late, I'm Erica Stewart.
My first trade with the Boilermakers, I actually joined the Boilermakers as an apprentice myself as a welder.
I'm from, I'm not quite sure if you ever heard of Alabama. Mobile, Alabama.
It's good and Southern. Down in the country. We eat collard greens with our hands here! We get it in!
Well that's where I'm from.
However, the job that I really didn't even want in the beginning.
A friend kind of talked me into riding to the shipyard with her and I was like,
"I'm not interested. Not doing no physical work. I'm good".
I was brought out of the military. I'm a Vet as well. Go Army!
But I really wasn't into it, and she talked me into applying for the position. I became a ship fitter apprentice at first.
And it was tough. Being a woman. Being in the male-dominated industry.
Again, this is the 'Dirty South'. I had two strikes against me. I was black and I'm a woman. I'm a kinda cute woman at that, so I'm going to toot my own horn.
(LAUGHING)
So at the end of the day my supervisor really wasn't happy to see me in the morning.
Because as you can tell I'm full of energy. And this is me all the time because you're not going to rain on my sunshine because you don't know where I come from. So I've got a reason to have this smile on my face because of my journey and where I come from.
So I would come in all bubbly and happy and he just had a problem with me. He didn't want to give me the training that I deserved. It was like hell on wheels. I'm just going to be honest with you. I was called all kind of ugly names.
You name it. Daily.
But I was just determined that I wasn't going to allow him to tear me down because I was there for a reason. I was a single mom with three kids and he wasn't going to stop me from eating. I needed my money to take care of those babies.
I was a part of the union but I really didn't know what the union stood for. Some of the other guys on the crew was saying, "You need to request a union steward." Okay, I'll request a union steward.
And he came down and talked to me and I told him what was going on, that the guy was just trying to put me on the crappy jobs. He just was like coming over and making threats and very demeaning to me as a woman.
And he just made me so uncomfortable whenever he was there, with the name calling and things. And the Boilermaker union steward, the chief steward, is the reason why I actually kept that job. He represented me.
He was threatened. He was even told that if he represented me that his job would even be on the line. I was able to still maintain that job. I was under a lot of pressure. It was really tough.
But due to me being represented, a lot of other sisters that were working at the time, that were afraid, that didn't take the initiative to ask for a Union Steward, began to come to me saying, "Well what did you do? How did you do it?"
And I'm like, I just told my story. I told on him. I snitched!
He was doing wrong! I didn't wake up at 3:00 in the morning to drive over there to be called the n-word. And be called a B, or female, a chick or a babe. I'm Erica. Treat me like you would treat any other worker. I just wanted the opportunity to be trained.
And so at the end of the day, some of the women started coming over to me, asking me to speak on their behalf. And I said "Well, we need to start going to the union meetings, because if we're going to be paying union dues we need to be able to go and find out what's going on on the floor".
So we started going to the union meetings and we started speaking about it and about some of our issues. And it began for me from there.
They were like, "You should be a union steward!" Me? A union steward?
So I became a union steward back then. I was then appointed as the assistant chief, then to the chief steward. I was elected by my peers to be the president of that actual local.
My brother, I hear you say you were an organiser. I was an organiser as well. I began to organise that local from like 1100 to 2500 members.
I wanted to go out and organise, not just some of the people, but all of the people. Blacks, Whites, Asians and Hispanics. Because I feel like with this opportunity, with the money that they were making, and the benefits that they were allowing for the their families, I didn't care what they looked like.
I just wanted to know that you are a healthy person that can pass a drug test. They can come here and get this job.
So organising was a very, very big thing for me.
And during my organising journey, my president, President Jones, I guess I stood out and he took a chance on me and gave me an opportunity and appointed me as the international rep.
I was in tears. I didn't know what to do. The very first woman, international rep and a black woman at that.
I was just floored. It was such a moment.
I'm getting emotional just thinking about the day when I got the phone call and I was asked about it. Woo!
It was really a moment for me. I remember having a conversation with my mom who passed two years ago, and she was so excited. She was an honorary Boilermaker member. She used to wear her Boilermaker t-shirts. And she was just so excited because of the hard work that I put in.
I will be up late at night working on cases, trying to represent my members when they were treated wrong. When those managers at the shipyard were just trying to find ways. It was a 90-day probation. They would let you get to the 89th day and say, "We are going to probationary release you".
Just mean stuff like that.
It was tough.
Again, this is the 'dirty south'.
If you know the history of the south, not much has changed.
So being an international rep and being at that level, I was already trained to deal with things of that nature because of where I come from. So we're dealing with diversity, dealing with racism and just dealing with all of that.
I already was pretty much trained at that level because of where I come from.
But I can honestly say being the only female rep, my union rep brothers, they embraced me. They are very protective of me whenever we're traveling. They are like my bodyguards. Like no! But they're my big brothers.
They want to see me shine. They make sure that I'm equipped with all my information. They're family for me.
It's just the dynamics of what they bring for me, being that I come from a small family. And I lost like three family members within that same year.
And they were right there for me. Phone calls, texting and showing up. They're those guys.
And then I was appointed later in two thousand and...What year was that Martin? I was appointed the national coordinator.
MARTIN WILLAMS: 2019.
ERICA STEWART: 2019! My brother was right there and we celebrated together! Another tear-jerking moment of, "Oh my gosh! You want me to do, what?!"
The title was so long y'all. It took me forever just to remember what exactly I was. It was like,"What's your title?" And I'm like, "Let me look at my business card."
(LAUGHING)
I was so excited. Such another honour.To represent my sisters! Because I know where they come from. Starting off in the shipyard.
I'm going to tell you my age now. 1997, to now, 2021. And to see that they now have more women that are stepping to the ...
(INAUDIBLE)
... and to provide for their families. Is an amazing thing. More women stepping into leadership roles.
With me being in this role, I have more women now who are local-level leaders. They're presidents of their local. They're vice-presidents. More women that are now benefits managers. Chief stewards. In our organization.
Not just Black sisters. White sisters, Hispanics sisters, Asian sisters. We are definitely stepping up and utilising our voices now. And saying, "Yes we can!"
And we're encouraging each other. We have a thing called 'Lean In'. Where we have a group call once a month. And we talk and we encourage each other. So we are definitely taking our stance in this trade. And the trade.
And we're saying, we're not going to allow ourselves to be out here in a situation where we're going to be overlooked because we're women. Because we have children. We're taking a stance.
I'm also a part of the Tradeswomen Build Nations. They're working on a maternity leave for women that do have children. So there's a lot of different resources now that we have available.
President Jones setting me up in this position and appointing me in this position has now brought so much more awareness to our Boilermaker sisters. And it puts me in a place where I can help and get more resources to help our Boilermaker sisters.
So I know that I'm a talker. Maybe a little bit. But I love what I do! I get excited when I talk about being in this position to help my sisters. And I'm just grateful to have a president that gives me the opportunity to do so.
And he's very open whenever I come to him with different suggestions for different programs. He's very open to do so.
I do a lot of recruiting still in different colleges, technical schools. We have an all-women welding program at a junior college in Dothan. We just had a young lady that graduated. I'm so excited. She is now a Boilermaker sister at the shipyard.
So I just get so excited when I'm just walking to the store or at the fair and someone's like, "Oh my Gosh! Miss Erica! Thank you so much!" "You helped me." "You gave me an opportunity." "You helped me get the job at the shipyard. I'm not married. I got a baby and it's all thanks to you!"
Those moments right there, mean the most to me. So it's a tough job but I wouldn't trade it for anything. And I wouldn't trade my Boilermaker family for anything.
They are truly my family.
GILLIAN PITTERS: Erica, thank you for sharing your story.
You're an inspiration and a fantastic role model.
ERICA STEWART: Thank you!
GILLIAN PITTERS: The changes you are managing to make for women.
That's fantastic!
ERICA STEWART: Thank you so much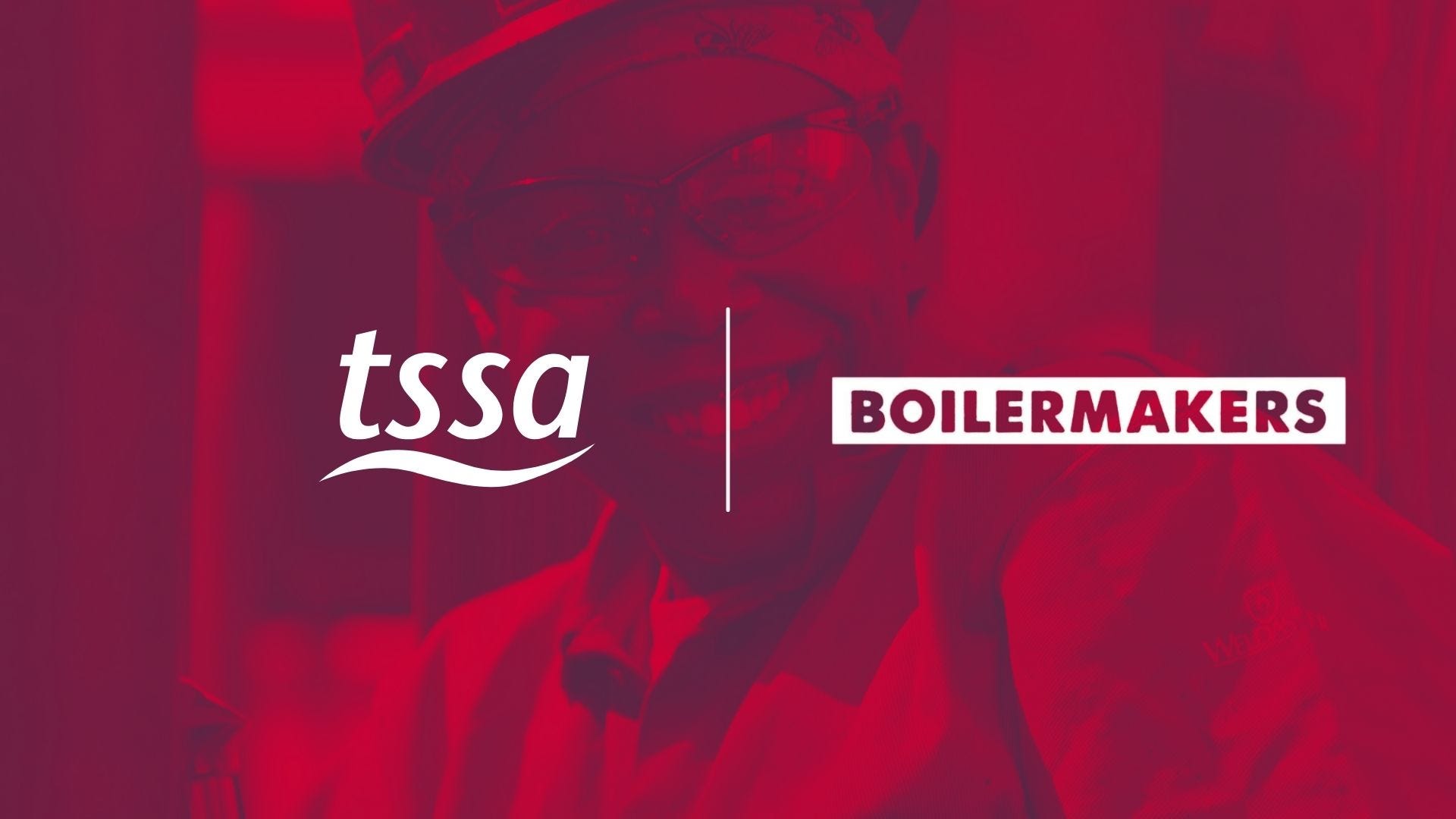 TSSA-Boilermakers merger
TSSA is in talks with the Boilermakers union for a proposed merger. Find out more about this golden opportunity to ensure our TSSA union flourishes, no matter what's thrown our way.
Find out more