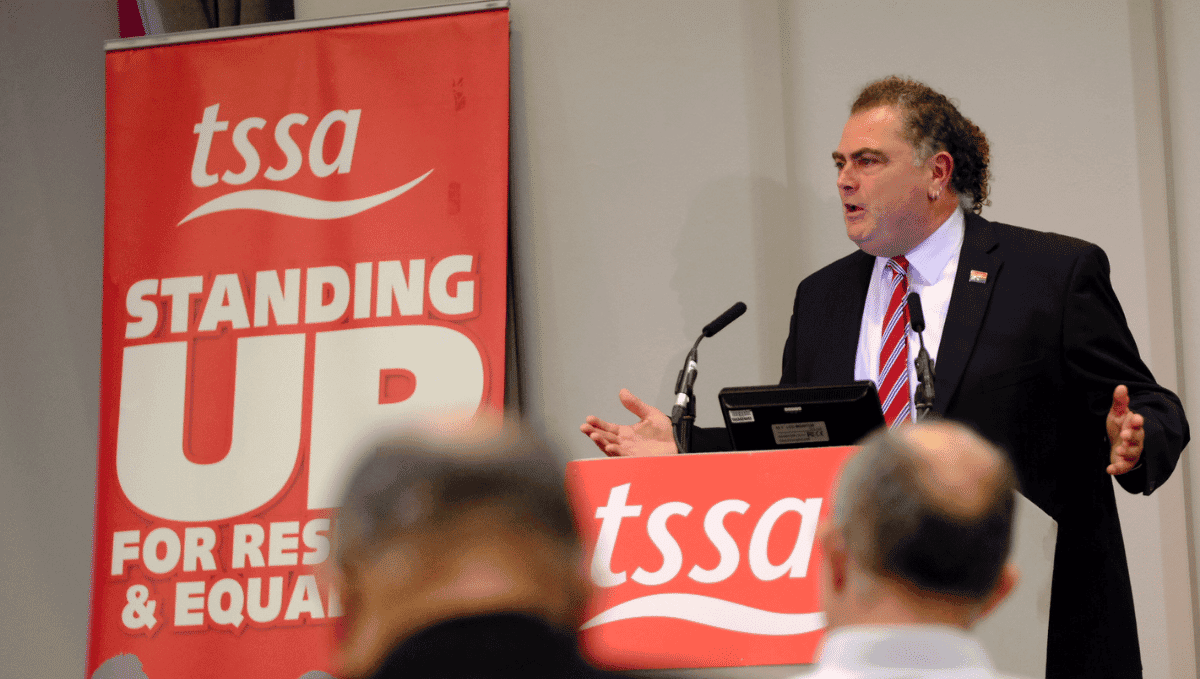 TSSA General Secretary, Manuel Cortes, looks ahead to his union's annual conference by promising to fight Tory plans for cuts to our railways
In the sinews of crisis there are always those who do well - despite the hardship of the many. Think no further than the many prominent individuals and companies who profit from war, both today and in the past.
This is just as true when we consider the last eighteen months and the terrible pandemic which has claimed and blighted so many lives – and continues to do so. This wretched Conservative Government has willingly looked the other way, some would say been complicit, in the vast profiteering and corruption at the heart of the daily battle against the virus.
So, while Ministers bolster their mates and protect their class interests our union and the wider movement is already engaged in the fight for our future. Make no mistake, Johnson and Co want you to believe that cuts to rail services are the way forward.
Of course, they know the exact opposite to be true. There can be no full return of workers to our railways and our wider public transport network unless the services are there to support this. Anything else is short-termism on stilts which would turbo charge car usage at a time when rail offers a truly green alternative in the fight to decarbonise.
Just consider for a moment the notion of cuts to rail services and the jobs that would go with such moves. Was it not our brave transport workers who – quite literally – kept the country moving through the darkest days of the pandemic so that NHS and other key workers could do their jobs?
Again, the Tories know this and again they are happy to ignore the facts because it does not suit their agenda. It's not just at Westminster we see this - in Scotland the SNP government at Holyrood is looking to axe more than 300 rail services a day as a reaction to the pandemic.
No wonder our union has a laser-like focus on defending rail services and investment, on protecting our members' jobs and terms and conditions.
All of this will be at the top of our agenda and the front of our minds at our annual delegate conference in Birmingham. This hybrid event – which begins on Saturday and goes through to Monday - is the supreme decision-making body of our union.
As we reach out in the fight to shape the future for members and workers across the land we have much to discuss - our rail industry's recovery from the pandemic and the future of public transport; the continuing impact of Covid on our members and our travel trade. Our deliberations will rightly also consider an economic model which leaves so much to be desired when it comes to working people and look closely at COP26 and climate change.
We do all of this knowing we are in the fight of our lives against this craven Tory Government.
For instance - Transport for London has been treated as a mere plaything by Ministers in recent months. That's disgraceful because London's transport system is not only vital for millions of people each day in our capital, but crucial to the economic recovery from Covid.
What's needed is a fair long-term financial settlement in line with other world capitals rather than an over reliance on the fare box.
Across our wider industry there can be no excuse for an attack on rail workers and rail services at a time when we need a fully functioning network more than ever. Our railways will be crucial in the coming years as we face the immense challenge of climate change.
Ministers need to wake up and realise the true value of well-funded, well-staffed, fairly funded and publicly owned railways. Any threat to our members' terms and conditions or the threat of compulsory redundancies will simply amount to an unjust Covid recovery and will be resisted.
This article first appeared in the Morning Star newspaper on Saturday 18 September 2021.