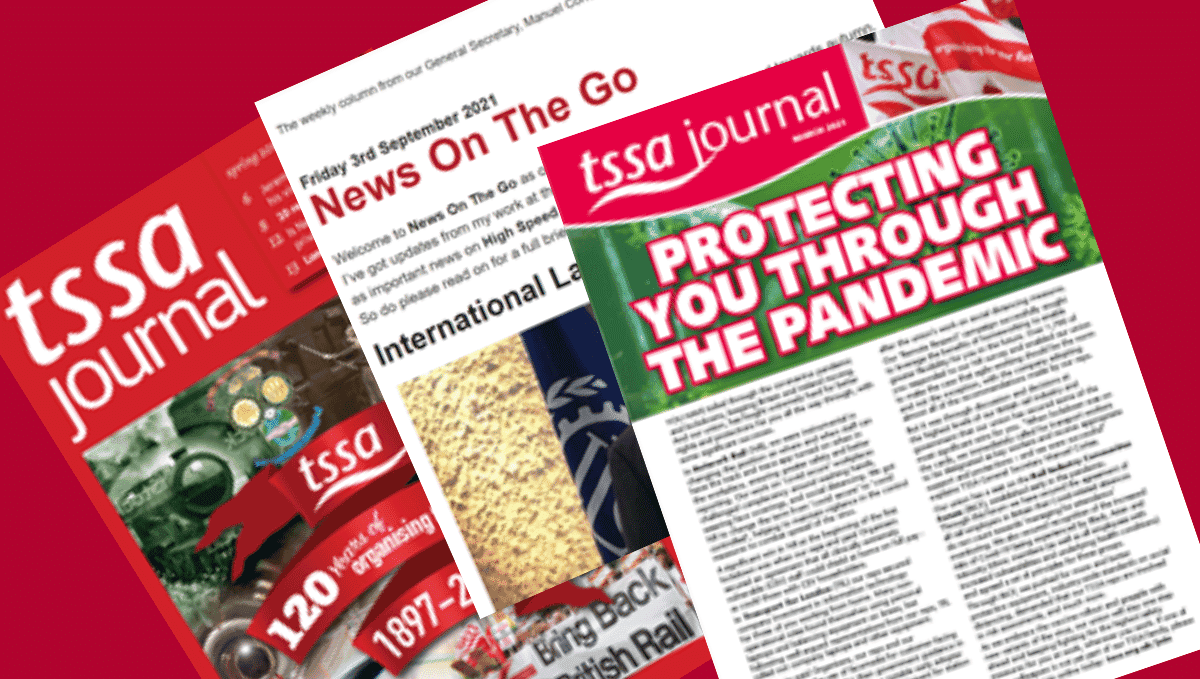 TSSA Journal
A selection of TSSA Journals from our archive
Member communications
At TSSA, communicating with our members is really important. We send out a weekly digital newsletter to all members, called News on the Go. This is a fast paced round-up of the week's news and events and comes to members' inboxes direct from the TSSA General Secretary.
Periodically we send a journal out to members via post. You can access our archive of journals in the section below.
Recent TSSA journals
DOCUMENT.CATEGORY: TSSA Democracy
DOCUMENT.FILESIZE: -1962KB
TSSA Journal Jan/Feb 2022
DOCUMENT.FILESIZE: -4563KB
TSSA mini journal, March 2021
News on the Go
Every week we send a digital newsletter to all our members, called News on the Go. Check your email on a Friday afternoon for this latest update from your union. You will also find it on our Twitter account.
Here's a recent edition:
TSSA Journals from the archive
DOCUMENT.CATEGORY: Reps' Resources
DOCUMENT.FILESIZE: -7926KB
DOCUMENT.CATEGORY: Reps' Resources
DOCUMENT.FILESIZE: -3228KB
DOCUMENT.CATEGORY: Reps' Resources
DOCUMENT.FILESIZE: -2574KB
More TSSA journals from the archive