Media centre
Contact the TSSA media team and download TSSA assets for promotional use.
Media team
TSSA's media team handles all media enquiries, interview requests and publicity issues. Please contact comms@tssa.org.uk or one of the team members below.
TSSA logos
There are two versions of the logo – black and white and colour.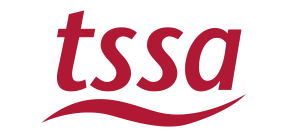 The logo is available to download from the files below. The TSSA logo is only to be used with TSSA's express agreement and permission. If you have any queries, please contact: comms@tssa.org.uk