NEWS.CATEGORY: Union news
TSSA celebrates 125 years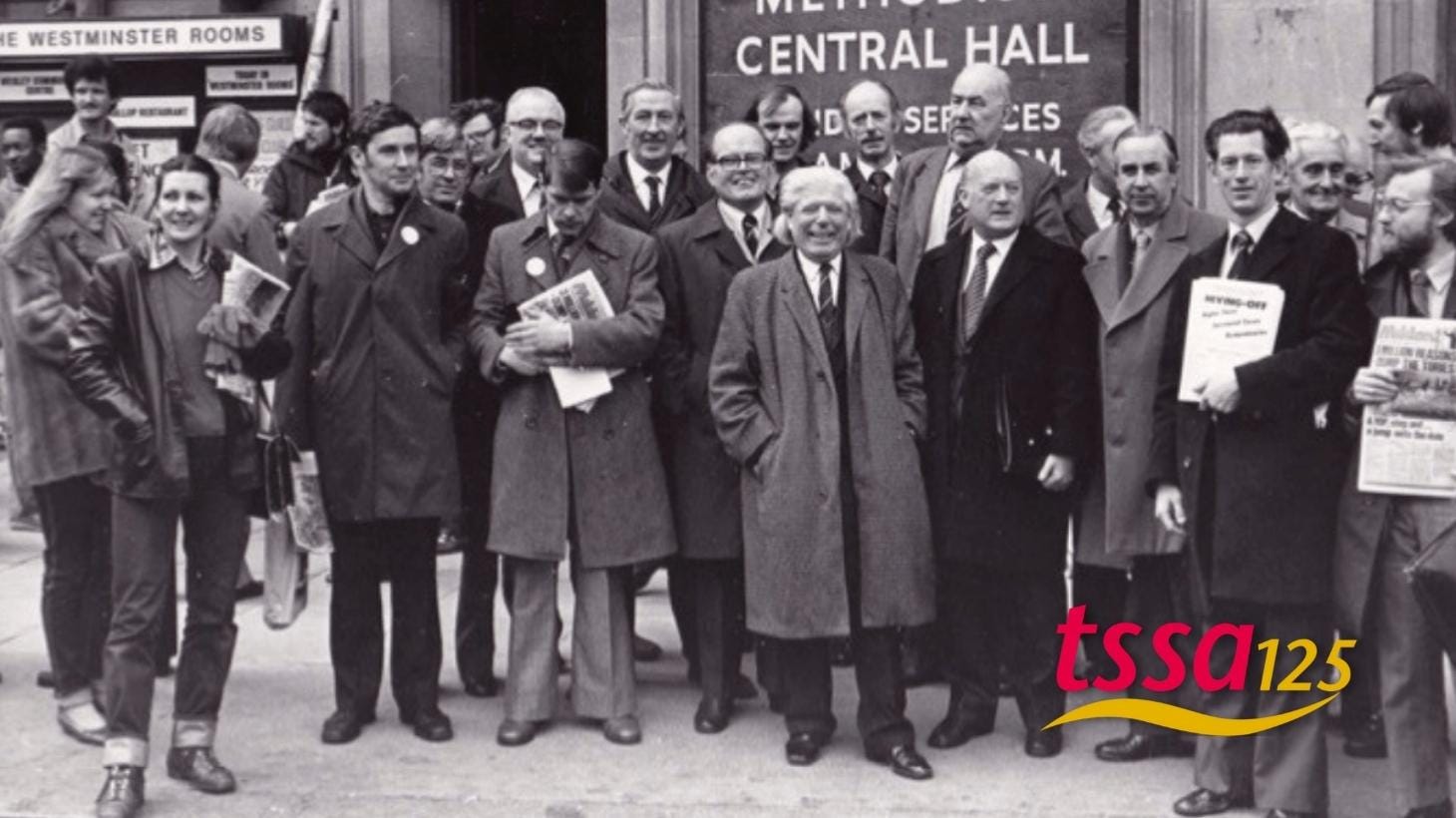 Transport and travel union TSSA celebrates its 125th birthday on Monday 9 May with a special event in Sheffield, where the union was formed on that date back in 1897.
The milestone in the union's history will see members gather with VIP's, politicians and guest speakers across a day of celebrations culminating in an evening reception and dinner dance.
The TSSA (Transport and Salaried Staffs' Association) can trace its roots back to 9 May 1897 with the founding of the National Association of General Railway Clerks. It became the Railway Clerks' Association in 1899, then, in 1951, the current title of TSSA was adopted.
The union's heritage and current activities will be displayed in an exhibition, history wall, film screenings, and numerous stalls and stands relating to the life and work of the union. Attendees will be encouraged to get their photo taken with TSSA's 'trainbow' which celebrates the union's Inclusive Rail campaign and to get involved with a range of interactive displays and activities, including 'craftivism' and education taster sessions.
There will be performances from the Banner Theatre, Britain's foremost political theatre company, and comedian Mark Thomas. A range of guests will be attending throughout the day including former TSSA leaders, Labour's deputy leader Angela Rayner, Shadow Transport Secretary – and local Sheffield MP - Louise Haigh, Labour politicians, British and international trade union leaders, and friends of TSSA.
Manuel Cortes, TSSA General Secretary, said: "It's wonderful to be returning to Sheffield, the city of our union's birth to mark our 125th anniversary and I want to pay tribute to all our members who have kept our union flourishing over that long period.
"Much has changed since our formation - workplaces are safer, working hours shorter with better rights across the board. Our rail family has never been more diverse, but we have so much more to do.
"Today we continue to call for our railways to be in public hands, and right now we are resisting vicious cuts from this Conservative government aimed at decimating rail in the wake of the pandemic. Some things never change!
"All our industries face an uncertain future - buses, ferries, transport and our travel trade alike. Just as our founders knew 125 years ago, members today understand the central role of our union in the collective fight for working people.
"Looking to the future it's clear our public transport networks remain central to the economy and our communities - perhaps more important than ever in our fight against climate change.
"While we celebrate and venerate our first 125 years at our gathering in Sheffield, we know our work remains not only relevant but will be utterly vital in the years to come. One thing I can promise you - our union will never cease in our daily struggle for all our members and for a better, fairer and just society."
Find out more!