NEWS.CATEGORY: Industrial
TSSA is 'hope of workers' says Rachael Maskell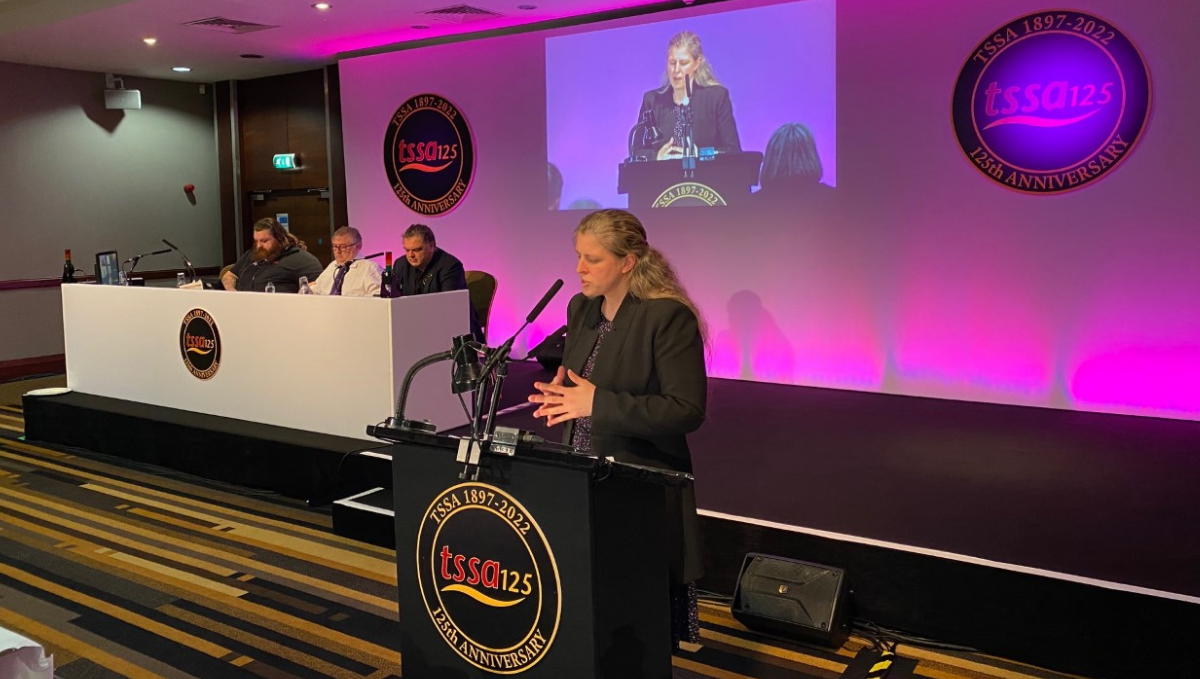 Labour MP Rachael Maskell was given a standing ovation by TSSA delegates at their Annual Conference in Sheffield for a speech praising transport and travel industry workers and calling for resistance to the government's cuts agenda.
The York Central MP described TSSA as a "progressive union which has ignited the hope of workers across our Movement and across our country."
Maskell said TSSA, which is celebrating its 125th anniversary, this weekend was a union "built on strong foundations, laid by generations of transport workers."
At a time when the union is consulting Reps about a possible national ballot for industrial action at Network Rail and train operating companies in England Maskell said, "people across the transport sector must be heard. You cannot be clapped one day and sacked the next."
She added that the coming of the new body, Great British Railways, must not be "an excuse to cut jobs, to slim down the organisation or to outsource."
Echoing TSSA fears about safety on the railways in the face of major cuts and jobs losses Maskell said "if you do not invest in the staff then there is a serious price to pay and I back you one hundred per cent as you make the case for better terms, better security and better pay."
She went on to say that transport and travel workers had "got up every day, put on their uniform and worked" throughout the pandemic to keep the country moving and people safe.
She added "it is therefore a disgrace that the government are now out on the attack, wanting to downsize and dumb down the transport sector and its staff. We must resist cuts in jobs, cuts in pay and cuts in the standards of living."
On the growing Tory cost of living crisis Maskell said that the rise in bills was a result of the choices made by the government which she dubbed "a band of capitalists, cronies and crackpots."
She said Labour would not be in power at Westminster "until trade unions are put back at the heart of the party again, given the opportunity to set the agenda."
Her closing remarks were a call to arms for delegates and the wider membership - "we need a union like the TSSA committed and organised. The future is in your hands. Dare to fight, dare to dream and dare to believe."