NEWS.CATEGORY: Industrial
Avanti members speak from the picket line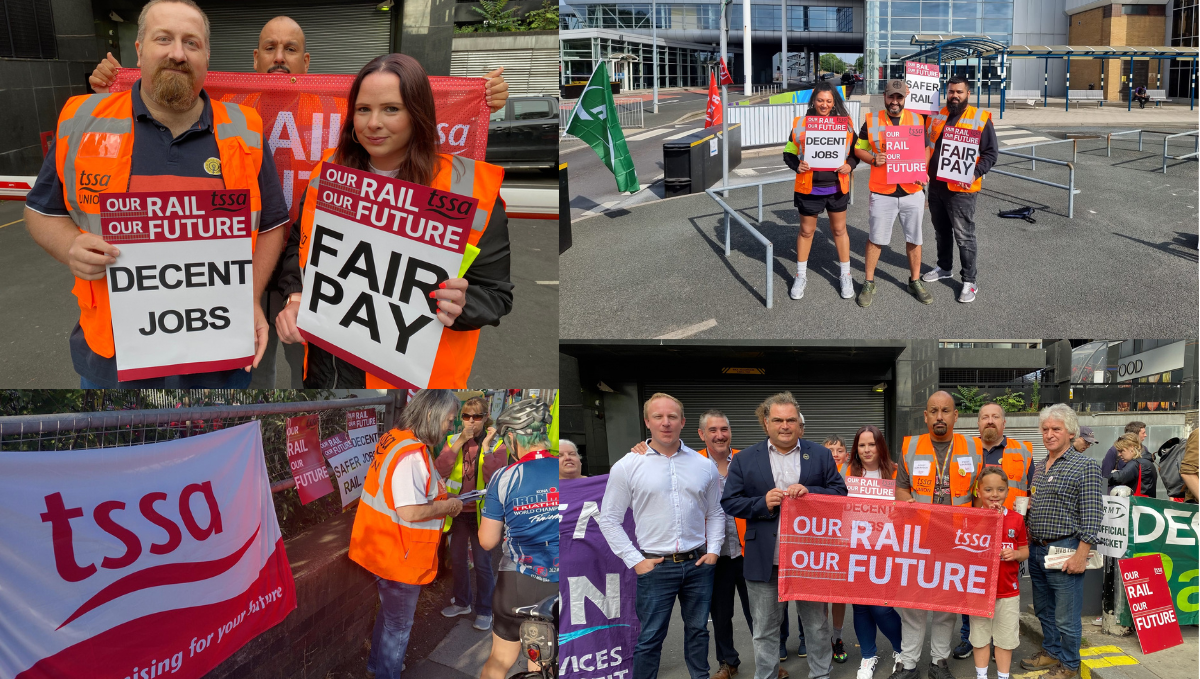 TSSA members from train operator Avanti West Coast took strike action across the country today (Wednesday) in a dispute over jobs and pay.
Picket lines appeared from dawn at stations where Avanti services run, with TSSA flags, banners and placards on display from London Euston up through Coventry, Stoke, Stafford, Crewe, Glasgow and other stations along the Avanti routes.
"People are worried" explained TSSA rep Sarah Jane McDonough from the picket line at Euston where she works for Avanti in the booking office. "Since the pandemic, we've had Sunday shifts and night shifts unilaterally removed - lots of staff rely on that overtime to pay bills."
"For me, my mortgage is based on earnings which include Sunday work" added TSSA rep David. "And it's not like the work isn't there - we're already carrying 12 vacancies out of a team of 40 and the stress on the remaining staff is huge. We're seeing a lot more sick leave and it's a direct result of the stress and workload people are experiencing."
Both reps explained how the busy Euston ticket office regularly experiences long queues of passengers travelling from the capital up to the Midlands, North of England and Scotland.
"They want to close ticket offices" said Sarah, "but every day we've got queues at the ticket office here. Yes there are ticket machines, but they reduced them from 32 to 8. They're pushing people to use phones to buy tickets - it's probably a lot to do with harvesting data."

"In Euston we get lots of tourists who don't understand the ticket system," explained David. "There's also lots of pensioners going on holiday or visiting family and friends in Scotland. But it's not just about tourists and pensioners, there are lots of people who are not tech savvy."
Job losses, unfilled vacancies and understaffed station functions are leading to requests for staff to cover more than one job. "It's a real worry," said Sarah. "Because we're so short of staff, instead of filling vacancies they're asking people to do more than one job. Roles like ticket office, floor walker, pre boarding. Each of these have specialisms."
"These seem to be the multifunctional jobs coming in, but without negotiation, agreement or payment" added David.
It's a similar story at stations across the country, with vacancies not being filled and staff being asked to cover extra work.
"The support from the general public has been overwhelming for the pickets here in Crewe – lots of supportive car horns, thumbs up and people stopping to chat" said Lou George, TSSA Organiser for Avanti. "We even had someone bring a load of bacon sandwiches down for us. There's a petition against ticket office closures which has attracted lots of signatures from members of the public. People understand why we're taking this action, they're on our side and want the government to sort it out."
It was a similar picture from the picket line at Birmingham International station, with a member saying "there's been a great turnout today with both unions on the picket line standing in solidarity. Many beeps from passing motorists and even commuters stopping to chat and wish us the best in our fight for better pay and better terms."
Back in London, shadow transport minister and Labour MP Sam Tarry joined the picket line in Euston to give his solidarity to striking rail workers. Former Labour leader Jeremy Corbyn also joined, as did Labour MP John McDonnell and Labour London Assembly Member Elly Baker.
Rail staff at Avanti are going into a fourth year of a pay freeze, having last received a pay rise back in 2019. Despite having worked through the pandemic, and with passenger numbers at more than 90% of pre-covid levels, there is currently no protection against compulsory redundancies. On top of this, the government and industry leaders have revealed bombshell plans to close hundreds of ticket offices, overhaul station staffing and roles, and change rail workers' pensions.
A pay offer of 2% was rejected last month and since then talks have taken place at umbrella industry level with the Rail Delivery Group. However, no improved offer on job security, pay or conditions has yet been made.
"The dead hand of the government is all over this" said Manuel Cortes, TSSA General Secretary who attended the picket line at Euston on Wednesday morning. "Grant Shapps is trying to pin this dispute on the unions when he knows very well it's lock stock and barrel his responsibility. Shapps needs to either come to the table - something he's point blank refused to do - or let the train operators get on with negotiations without his government interfering and shackling them. We're only seeing these strikes because the government has decided to pick a fight and politicise rail workers' jobs."
Our union has served notice for action short of strike in GWR this Saturday, 30 July, and for both strike action and/or action short of strike in 11 train operators for 18 and 20 August.
Our union is seeking an agreement covering no compulsory redundancies, a pay rise which meets the cost-of-living, and assurances over terms and conditions.
Manuel Cortes on the picket line
(00:01.0 - 00:03.4)
Good morning from the picket line at Euston.
(00:03.5 - 00:06.7)
I have joined our members in Avanti west coast
(00:06.8 - 00:09.9)
today and I know that many of you will be
(00:10.0 - 00:13.5)
coming out on strike over the next few weeks.
(00:13.6 - 00:15.7)
If we cannot reach a settlement.
(00:15.8 - 00:18.1)
I want to reassure you that our union
(00:18.1 - 00:20.4)
is doing everything that we can to try
(00:20.6 - 00:23.4)
and get a negotiated settlement to this dispute.
(00:23.5 - 00:26.0)
In the end every dispute gets
(00:26.0 - 00:28.7)
settled through a negotiated settlement.
(00:28.8 - 00:31.5)
But the problem we currently got is that
(00:31.5 - 00:33.5)
the dead hand of Grant Shapps is not
(00:33.5 - 00:36.7)
allowing train operators to negotiate freely with us.
(00:36.8 - 00:39.0)
And my message to Grant Shapps is very clear
(00:39.1 - 00:42.1)
either get out of the way or empower
(00:42.2 - 00:45.6)
the train operators to negotiate freely with us.
(00:45.6 - 00:47.1)
And if you're not prepared to do that
(00:47.2 - 00:48.7)
if you're not prepared to do that then
(00:48.8 - 00:51.4)
get around the negotiating table with us.
(00:51.5 - 00:53.1)
He's got my phone number.
(00:53.6 - 00:56.1)
I'm willing and able to meet him anytime, any
(00:56.1 - 00:58.8)
place, anywhere to try and resolve this dispute.
(00:58.9 - 01:00.3)
In the meantime, I want to
(01:00.4 - 01:01.8)
thank you all for your support.
(01:02.3 - 01:03.7)
It's been overwhelming.
(01:03.8 - 01:05.6)
Let's keep the pressure up.
(01:05.8 - 01:08.7)
Let's keep focus because I'm sure that we can win.
(01:08.8 - 01:11.4)
Thank you again for your support.