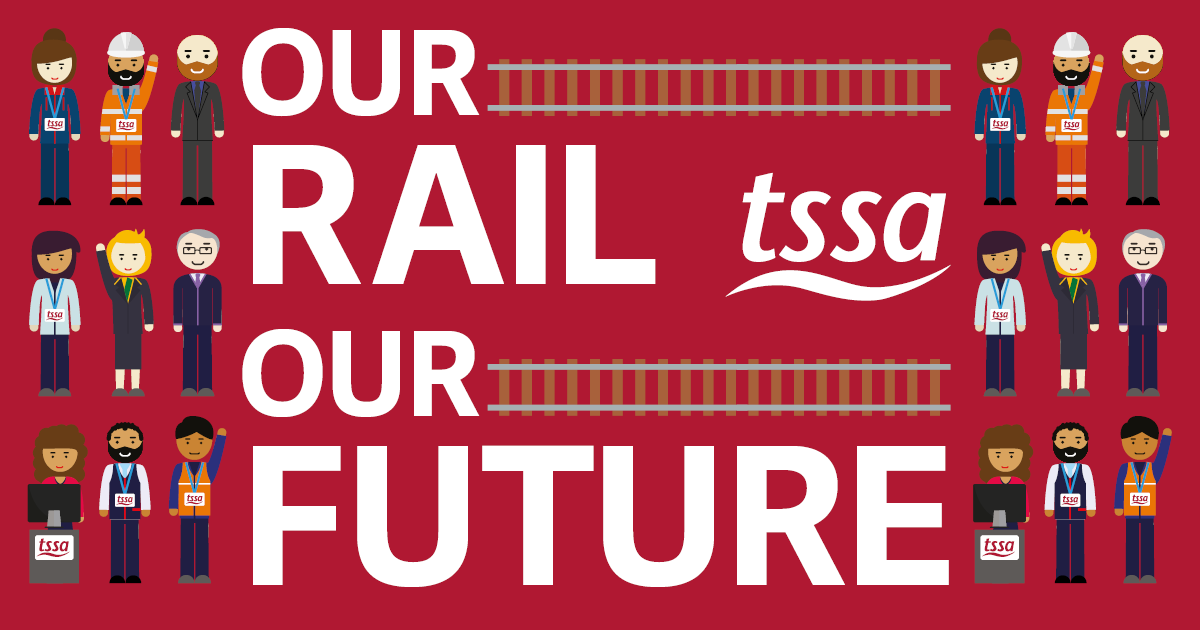 Our Rail Our Future
Our campaign for pay, job security and strong terms and conditions for rail workers.
Overview
In 2022, our union went into dispute with Network Rail and all Department for Transport train operating companies (TOCs) over:
Pay
Job security
Terms and Conditions
Industrial action ballots were held and strike and industrial action was taken by thousands of members - many for the first time ever. It was the widest action across the railways in a generation.
Following negotiations and hard-won new offers, TSSA members voted to accept an improved offer from Network Rail in December 2022. Talks for TOCs - held through the Rail Delivery Group - were more protracted, but members voted to accept improved offers in February 2023. In each case, TSSA was guided by reps and members throughout.
The determination of TSSA members to stand up for better treatment secured significant improvements on:
Pay - increased offers, including underpins for the lower paid and an offer that extended to groups previously left out of pay bargaining entirely (managers and controllers). A vast improvement on what was (or indeed wasn't) on offer originally.
Job security - extended guarantees of no compulsory redundancies (for over two years in some cases) and protections regarding redeployment opportunities.
Terms and Conditions - agreement that any change must be meaningfully negotiated via the recognised trade unions, including for managers. TSSA secured a clear line that the union does not support ticket office closures.
These successes are down to members taking action through their trade union. If you're not yet a member, please join today.
Join TSSA
Letter - Maryam Eslamdoust to RDG re 2022 payments
DOCUMENT.CATEGORY: Campaigns
DOCUMENT.FILESIZE: -152KB
Letter ME to Employers re 2022 payments Nov 2023
DOCUMENT.CATEGORY: Campaigns
DOCUMENT.FILESIZE: -77KB
Info and resources
Find out more about our campaign for pay, job security and stronger terms and conditions
The issues
Pay
We're demanding a pay rise which meets the increased cost-of-living for our members and their families. Many rail staff have gone two years or more without a pay rise. Inflation is effectively cutting the pay of workers just as essential bills for food and energy are soaring. Rail workers are key workers and deserve a pay rise, not because we are greedy, but to continue to make ends meet.
Job Security
We need to have a railway that meets the needs of rail users and enables green transport to save our planet. This means retaining key skills and ensuring excellent customer service. Many TSSA members want to stay and contribute to the future of rail and not be forced out of their jobs. We want a no compulsory redundancy agreement to cover all rail staff until at least the end of 2022.
A no compulsory redundancy agreement was in place during the pandemic, bringing stability to the rail industry. TSSA called for it to be extended until at least the end of 2022, but this was rejected by industry leaders in 2021 causing us to pull out of the Rail Industry Recovery Group (RIRG).
We can manage change in the industry better with an agreement on job security. Major change is expected in rail, including reports of widespread ticket office closures which have not been denied by government and the rail industry. And we also know that Network Rail is looking to cut around 5000 jobs.
Terms and Conditions
We want a fair and just transition, where change is not simply dictated to our members, but they have a say and an opportunity to shape the future of rail. A quality rail service is impossible without being able to retain and attract the best talent. There must be no detrimental changes to the terms and conditions – including pensions, safety and wellbeing – of rail workers. Our members deserve this guarantee at a time of anticipated change in the rail industry No race to the bottom.
Unless these basic assurances are provided, TSSA will remain in dispute with Network Rail and all train operating companies.
Who is involved?
The companies
Network Rail • Avanti West Coast • Chiltern Railways • Cross Country Trains • Greater Anglia • Gatwick Express • London North-Eastern Railway • East Midlands Railway • c2c • Great Western Railway • Northern Railway • South Eastern Railway • South Western Railway • Thameslink, Southern and Great Northern Railways • TransPennine Express • West Midlands Railway.
Our people
We represent a wide range of railway staff, including station, on-board, operational, control, engineering, managerial and support staff. If you're not already a member, JOIN NOW. If you have colleagues who are not yet members of our TSSA Family, please ask them to JOIN NOW.
Join TSSA Now
What action was taken?
TSSA members were balloted on a rolling programme, being asked to vote for both strike action and action short of strike.
TSSA members in Avanti West Coast were the first ones out, taking action on 27 July 2022.
TSSA members in TSSA General Grades (Bands 5-8) and Controllers took strike action in Network Rail as well as Avanti West Coast, c2c, CrossCountry, East Midlands Railway, Great Western Railway, LNER, and Southeastern took strike action on 18 and 20 August 2022.
Strike action planned for September was cancelled following the death of the Queen.
TSSA members in Avanti West Coast, EastMidlands Railway, LNER, Network Rail (General Grades 5-8 and controllers), SouthEastern Railway, TransPennine Express, West Midlands Trains, CrossCountry, Northern and c2c took strike action and action short of strike intermittently throughout 1 - 8 October 2022.
TSSA members in Avanti West Coast, C2C, East Midlands Trains, GTR, Northern, Southwestern Railway, Southeastern Railway, Transpennine Express and West Midlands Trains were due to take strike action or action short of strike intermittently throughout 4 - 9 November 2022. This was cancelled to allow talks with the Rail Delivery Group (RDG) to take place.
TSSA members in CrossCountry took 24 hours of strike action over 26 and 27 December, with members in Great Western Railway and West Midlands Trains each taking 24 hours of strike action 28-29 December.
Industrial action short of strike (for example, not covering contingency duties) was used extensively across all companies, either for specific dates or on a continuous basis.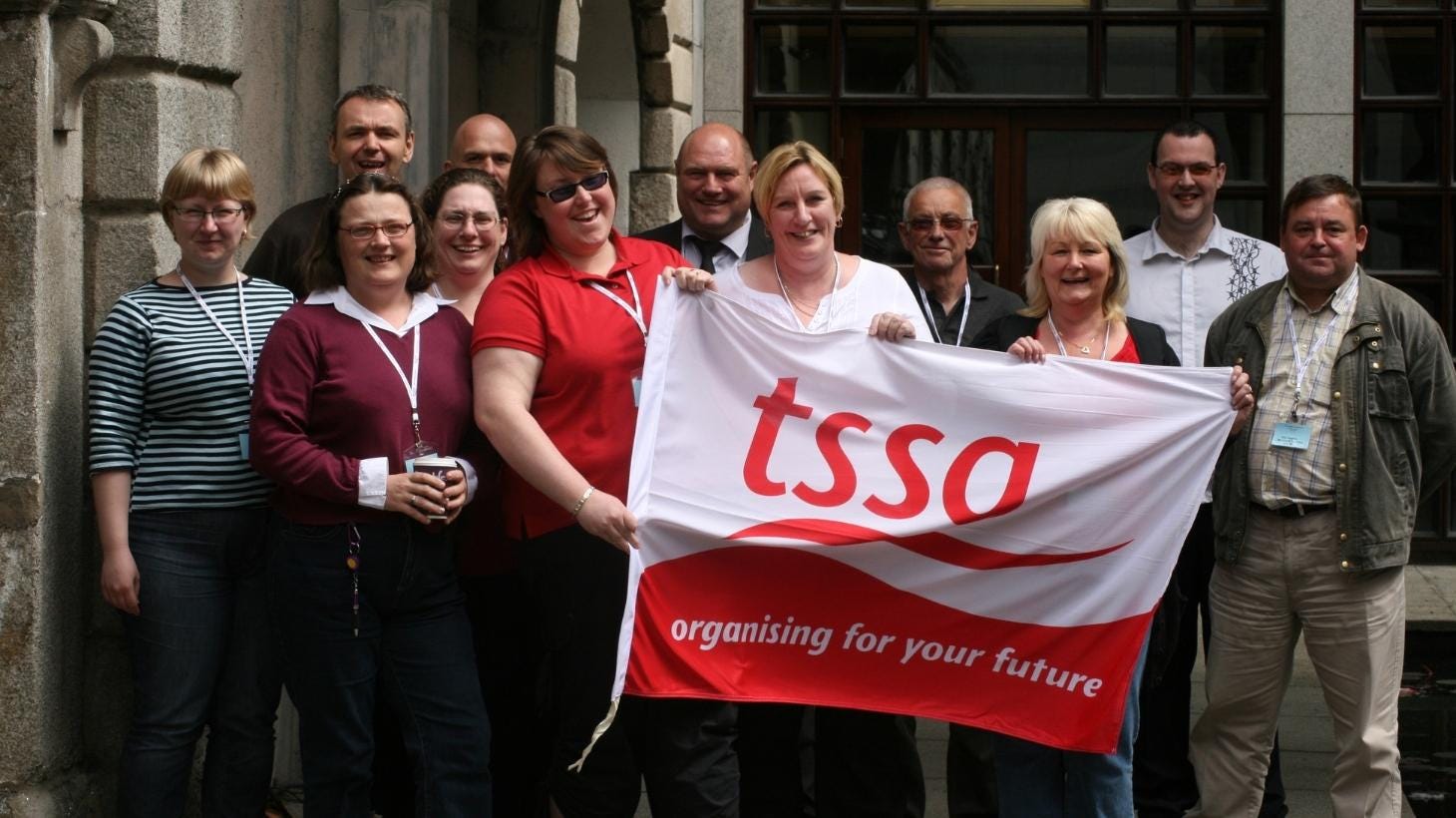 Become a TSSA workplace rep
Our workplace reps occupy the most important role in our union. As a workplace rep you are a key link in the chain of communication between TSSA and its members, and between your colleagues and their employer.
Start your reps journey today
Join TSSA today!
Get access to support & advice, member resources, career development opportunities and more.
Join Online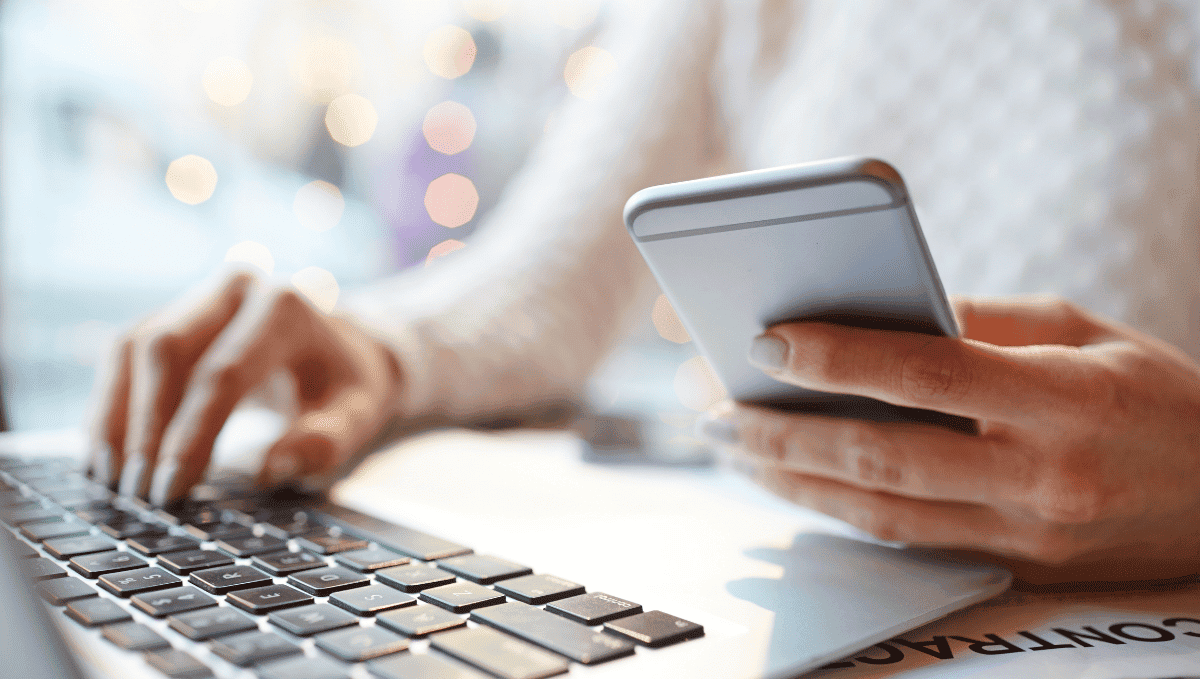 Are you up to date?
Make sure your personal details are always up to date by logging in to the MyTSSA members' area.
Log in
Member advice from our Helpdesk
If you are a TSSA member and are looking for advice or assistance in connection with your employment or membership, you can contact our Members' Helpdesk.
We can advise on a range of workplace issues including; discipline and grievance hearing, maternity rights and redundancy.
Helpdesk opening hours: 09:00 - 17:00 Monday - Thursday | 09:00 - 16:00 Friday
Please note: we cannot undertake to provide advice to non-members, to members of other unions, or to members on behalf of their partners/friends. If you are not yet a member, please join TSSA online.