NEWS.CATEGORY: Industrial
Call to investigate safety violations on strike day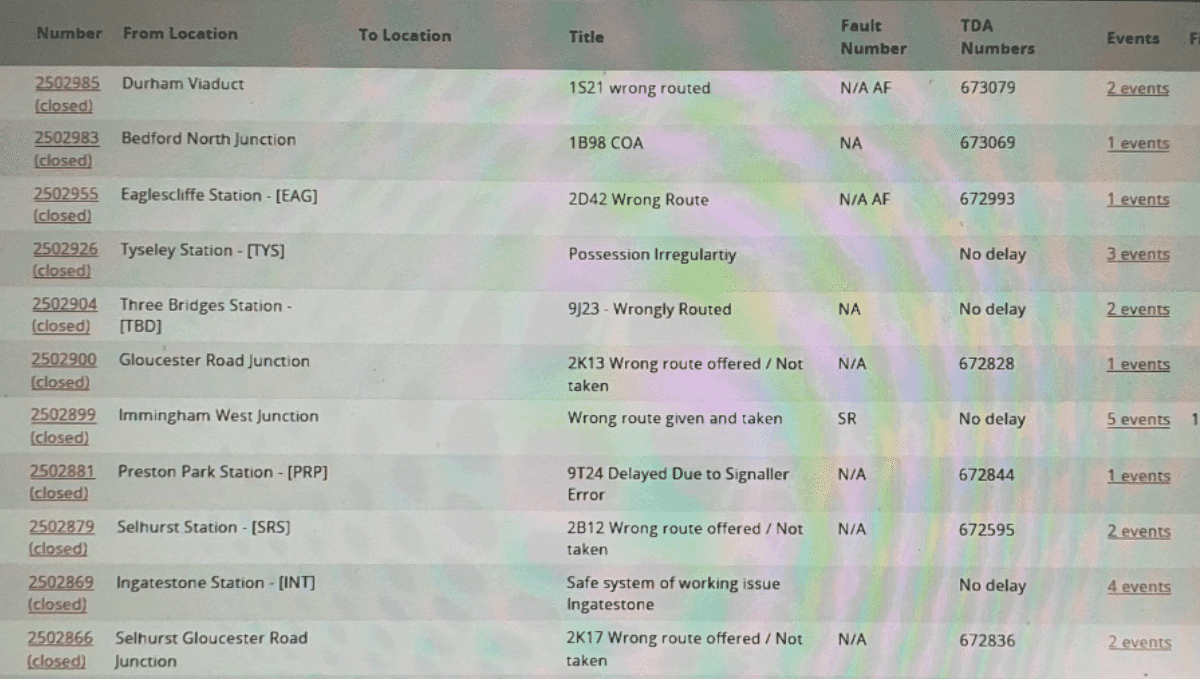 TSSA is demanding an investigation into rail safety after reports of multiple trains being sent in the wrong direction and some attempting to leave stations when signals were on red during yesterday's strike.
TSSA has received reports of trains being wrong routed – which can cause serious safety incidents if trains are sent onto unfit rails, as well as leading to service delays and disruption. The union also had reports of line blockages where signal boxes had been left closed and safety warning signals not engaged to alert train drivers, and further reports of stand-in staff trying to dispatch a train while a red signal was showing.
Manuel Cortes, TSSA General Secretary, said: "Any one of these safety violations could have caused a serious accident and put both passengers and rail workers at risk. We're asking the safety inspectorate to urgently investigate these alarming reports and to ensure safe working is in place during tomorrow's action.
"Safety must come first. Corners cannot ever be cut, including during lawful industrial action. Inexperienced or untrained staff must not be deployed into safety critical roles of any sort, but especially not signalling, control or train dispatch. We urge our members not to be pressured into work they do not feel confident of doing safely.
"The best way to avoid disruption is for the government to come to the table and resolve the dispute, not for unsafe working practices to be used putting staff and passengers at risk."
The full text of the letter is copied below:
To: Ian Prosser, Chief Inspector of Railways and Director of Railway Safety
Dear Ian,
I'm writing to raise concerns over potentially serious safety violations on our railway yesterday, Tuesday 21 June and to ask you to investigate in your role as Chief Inspector of Railways and Director of Railway Safety.
You may have seen online some of the reports of trains being sent the wrong way yesterday. Images shared with us tally with those appearing on social media which revealed that a large number of services were sent in the wrong direction. That a serious incident didn't occur can be only down to luck and the fact that so few services were running yesterday.
We are concerned that inexperienced people were brought in to cover signalling duties during lawful industrial action yesterday and it seems that as a consequence of that, a high number of wrong routes occurred. This obviously impacts services through incurring delays, but the potential safety impacts are huge.
As you know, signallers set the route for drivers to follow. If the wrong route has been set in error by the signaller and is not spotted by the driver in time, then passenger safety can be at risk. If trains are wrong routed onto lines which are not fit to carry certain types of trains, that could have serious consequences.
Additionally, we have had reports of managers trying to dispatch a train against a red signal, with two managers reportedly tested for alcohol and drugs as a result.
We also received reports of line blockages where signal boxes were closed, no signaller was on duty, and protected signals were not set at danger. We are concerned that contingency plans allowed for line blockages to be made without signals being set at danger (to alert drivers in enough time to reduce speed) and therefore putting workers at greater risk.
We ask you to urgently investigate safety concerns over staffing practices on Tuesday 21 June during lawful industrial action by the RMT union. We urge you to call for such practices to be halted in any further strike days to prevent a serious accident or similar safety breach occurring and to stop employers trying to draft in inexperienced staff to cover safety critical specialised duties such as signalling and control.
Passenger safety must come first on our railways. Political or industrial point scoring to try and keep services running during a dispute is a minor and petty approach and we hope you will agree with us that passenger safety is more important.
I look forward to hearing from you.
Yours sincerely,
Manuel Cortes